We are currently taking reservations for the following farm experiences.
Contact us for more details, to check availability, and for pricing if you want to combine multiple experiences into a day or half-day.
Guided Farm Tours 
Meet the animals, see the garden, and learn about our how we are raising healthy (natural and sustainable) and happy (free-range and loved) animals and vegetables. All tours offer the chance to ask questions, have some hands-on experience, and see how we raise food for our community.  The farm stand will be open after each tour—if you are looking for any particular cuts of meat, please inquire.
Meet the Farm & Farmers (45 minutes)
Get a quick introduction to all of the livestock, or focus your time in one or two areas of particular interest. On this introductory tour, you will meet the animals and learn about how we raise them and what they eat. There will be plenty of time to ask questions, decide which animal is your favorite, and to snap some great photos. Stops at the tractor for photo ops can generally be arranged. Good for all ages. It is a walking tour over some uneven ground. $10/person, $30 minimum.
In-Depth Farmer Tour (2 hours)
Spend a few hours touring our farm and you'll come away with memories, great stories and probably a new favorite animal. We will share stories of the farm and its characters while we introduce you to our livestock and crops. You'll get to enjoy seeing our horses, cows, goats, pigs and poultry as they eat, dig, frolic or just lounge in their mud puddle.
Many who raise livestock on pasture call themselves "grassfarmers" and we hold that as a proud and accurate label for our work. But our more primary identity is as "relationship farmers." For example, we nurture connections between our soils and our produce and we believe that we—our customers as well as ourselves—can know and name our animals, ultimately appreciating not only the taste and health qualities of grass-fed meat but also the meaning it holds. Our complex bottom line results from our understanding of these interrelationships and we will share them with you, answering your questions about the livestock and crops and what it takes to make it all work.
Our tour will conclude with a farm-fresh snack at our farm stand. Good for all ages. It is a walking tour over some uneven ground. $25/person, $50 minimum.
From the moment we walked in we were in LOVE! Our group spanned ages six to 73 and each of us enjoyed every minute of our experience. The kids were kids and the adults got to be kids as well. We actually squealed and giggled through the days with each new experience!

Milking goats, collecting eggs, moving the baby turkeys, visiting and reminiscing by the pond, catching frogs, making mint-ade, cooking with farm food, playing in the brook and more!

Laura and Mari, you are gifted hosts. Thank you for creating this incredible environment to gather and relax in. We were truly blessed to be here. We will never forget it!

– Melodie, age 57
A Quick Dip: 1-2 Hour Farm Experiences
The Chickens & The Eggs
Who came first? It doesn't matter. We have to feed the chickens, collect the eggs, and get them washed and packaged for folks who, like you, love the vibrant, orange yolks of eggs from chickens who forage, fly, and frolic, enjoying life on pasture. Good for all ages/abilities. $10/person, $30 minimum.
Be a Goat Milking Assistant
Meet the milking team up close and personal, escort them bet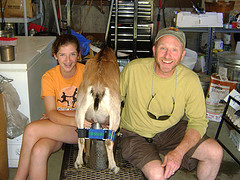 ween pasture and milking barn, prepare the goat buffet of their daily feed, watch milking, and ask questions. Good for all ages/abilities. $10/person, no minimum.
Young Chick Care & Enjoyment
Little ones of all species require more care. On our farm, small piglets and young goat kids are cared for by their mothers, but our chickens and turkeys are born elsewhere and their mothers don't live on the farm. You can assist us as we care for (food, water, fresh space, etc.) and socialize our young birds. Available May, June, July and sometimes August. Good for all ages/abilities. $10/person, no minimum.
Lattes on the Hoof
Enjoy some coffee or tea with warm, foamed milk, direct from our goats. Meet the goats, have milk foamed into your mug and then enjoy your latte while the goats are milked. Available during morning milking.  $10/person, no minimum.
Learn to Milk
Always wanted to learn how to milk an animal?  Meet our milking team, learn about the care of the goats and milk and learn how to hand milk a goat.  We will coach you and give you some hands on practice with one of our goats. Great packaged with a Latte on the Hoof.   Available during daily milking.  $20/person, no minimum.
Morning (or Afternoon) on the Farm (2-4 hours)
Animal Care & Feeding
Join us as we make our rounds to the of animals, providing them with food, water, health checks, and new pasture. Get a chance to accompany the farmers, and meet and learn about the pigs, chickens, goats and turkeys. Good for all ages; children under 12 must be accompanied by adults. $25/person, no minimum.
Welcome the Baby Chicks
Join the farmers as we pick up the baby chicks or turkey poults from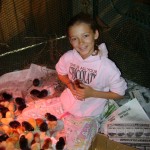 the post office and welcome them to the farm. Includes preparing the space and introducing each chick upon arrival to food and water and frequent checks to make sure all are thriving. Ceremonious, respectful composting of any mortalities. Pre-determined limited days available, requires overnight stay as pick-up is generally early in the morning. Good for all ages.  $30/person, no minimum.  All chicks have arrived for 2015 – look for 2016 dates in the spring.
Farm to Plate
Tour the garden and harvest some of the delights of the season, collect the freshest eggs, stop at the farm stand for pasture-raised meat, and then cook yourself a delicious farm-fresh meal in the barn kitchen. Delight in knowing that you are eating fresh, sustainably raised food. Good for all ages. Veggies, milk, eggs and 1 pound of your choice of pastured raised meat is included in each person's experience price.  Can be arranged for any meal (breakfast, brunch, lunch or dinner). Contact us for more details if you are interested in Farm to Plate for a weekend of meals. $60/person,  $40/person for those staying at the farm. Inquire for group prices, especially with kids.
From Teat to Table
Participate in the goat milking process and then turn milk into your own yogurt, cheese, gelato, custard or caramel. (Times and prices can vary depending on the number and types of products you wish to make.)
Spend a Day on the Farm
Chèvre from Start to Finish
Learn all the steps and make your own chèvre cheese!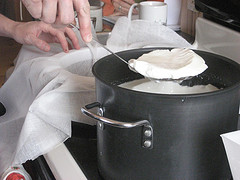 This experience will take place in at least three different segments over the course of 36-48 hours. Sample your finished product plain or harvest your choice of herbs or other embellishments for the finished cheese. If your time is limited, we can pack all the steps into a 2 hour workshop by pre-prepping some steps.  $225 for 1-8 people.
Yes You Can!
Help with the harvest of the day and then head into the farmhouse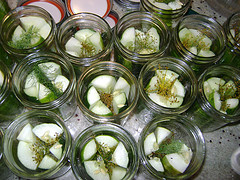 kitchen for hands on processing of the day's delights, and initiate or upgrade your dehydrating or canning skills. Take home the fruits of your labor. Schedule early for a multi-day, fill-your-pantry option. (Times and prices can vary depending on the number and types of products you wish to make.)
Farmer-in-Training
For the kid in all of us. Spend a morning, day or weekend as a Farmer-in-Training. Your chance to assist the farmers with their daily work, learning how to care for the animals and plants on the farm. This could include learning the names of the animals, feeding and moving the animals to new pasture, caring for crops, checking the compost, collecting and packaging eggs, harvesting vegetables, joining us at the farmers market and, of course, answering all of your (or your child's) questions. Step beyond our barnyard and right into our farm operation. This package will be tailored to the experience level of each farmer-in-training and can be repeated for kids and adults to progress to more advanced levels where you get to take on more responsibility. Includes a farmer lunch.  (Custom half day, full day and weekend packages available; requires advanced reservations.)  Ages 6 and up.  Price depends on the package, length of time and number of people, but runs $200-$600.